The basic operating key is "↑"or "↓"to adjust the shooting angle, and "←"or "→"to adjust direction or move.

"Space" is to adjust the range of force you are going to shoot. The range will change according to the time you pressed "Space" and it will show in the "Force" column in the bottom of the game. You can adjust your strength according to the Force Rule.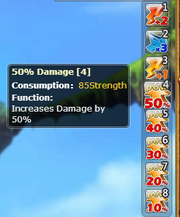 How to use tools
On the right site of your screen in battle, there are 8 tools: trident, attack times +1, attack times +2, damage increase by 10% to 50%. Each of them consumes stamina when you use in the battle.
Must kill skill
When enrage column on the right corner are full during the fight, the button "power" will show up and the must kill skill is activated.
p.s. the trident can't use at the same time.
Teleport Teleport is a way to transport further in the fight.